Custom One-Of-A-Kind Jewelry
"If you can dream it...I can make it for you." ~Ron :)
Have a Specific Ring You Want?: Just send me a photo and I'll quote building it for you. It's easy, very affordable...and you end up with your "Forever Dream Ring". Simply send in your request here. For inspiration, see my jewelry on Instagram - complete with videos and happy clients.
(Of course for any copyrighted designs, I will work to make something very similar...maybe even better for you! :).
SUBMIT A CUSTOM REQUEST
At Gold & Gems Fine Jewelry, we have been creating fine, customized jewelry for well over 30 years. Since jewelry is a personal expression of one's tastes, it is sometimes necessary to create a piece from scratch to best achieve the desired vision of our clients.
Headed by world renowned jewelry designer Ron Hansen, Gold & Gems employs highly skilled designers, model carvers, gold and platinum smiths, stone setters, gemologists, appraisers and are very proud of the important fact that all work is done on premises.
We have created countless wonderful pieces for clients ranging from simply quality-minded people to celebrities and have been featured in an international publication. Our goal is to simply listen carefully to your requests, add input for design and technical application, and deliver a piece that far exceeds your expectations.
Let's Make Your Great Vision into a Reality!
Call for a concept consultation at 877.917.8477, or email Ron with your concept. We will be more than happy to discuss your design ideas, gem options and overall plan of creating your masterpiece! Our design team will further review the scope of the project and follow with a price quote before any work begins. Once your details are finalized and you give final approval, your dream piece is 4-6 week away from arriving at your doorstep.
Checkpoints:
You will be kept posted on your project. If you are within the Southern Oregon or Northern California area, you are invited to come watch the process take shape. Long distance jobs are quickly communicated through email file/image attachments and electronic communications, with incredible new graphical video design capture is available for you.
WE WILL SHOW YOU WHAT YOUR RING WILL LOOK LIKE!! NEVER BEFORE HAS THIS BEEN DONE AT THIS LEVEL. WHY DO WE OFFER THIS AGGRESSIVE, AFFORDABLE DESIGN SERVICE?? IT'S simply because we are good at listening, learning and knowing what you want to wear. THIS IS THE KEY ELEMENT THAT PRODUCES AN ASTONISHING, PERFECT RING -OR- HAVE FRUSTRATING EXPERIENCES AND HAVE A NIGHTMARE EXPERIENCE WITH NO RESOLVE, AT ALL. We all have choices, but I assure you you'll be one of the many people that post raving reviews and testimonials for our products, services and our overall store.
A Guarantee And Quality Assurance?
Yes, of course! We are proud of our 100% success rate. Our success is built on the premise that we actually want our clients to be ecstatic about their jewelry! This is a concept that has been slowly lost by the innovation of, well, lets just say "less than fine jewelry".
Contact us today and experience the very best in custom jewelry creation.
"The one-of-a-kind pieces that I design turn out to be extra special to our clients. It's a piece of fine jewelry that a person can be proud to know it's the only piece like it in the world." - Ron
THE EASY DESIGN PROCESS::
Here's an example of how easy it is:
Send a request for your dream ring.
Get a design and quote from Ron and his crew. This includes a custom design and video sent to you promptly, via email (see "SHE IS Design" rendering below)
Email back and forth until all details are perfect.
Get Started! We will send you an invoice for full payment or 1/2 deposit.
Wait 3-6 weeks for you exciting masterpiece to arrive!
Example of custom design and video sent to customer via email

The Finished Product - "Nest of Diamonds"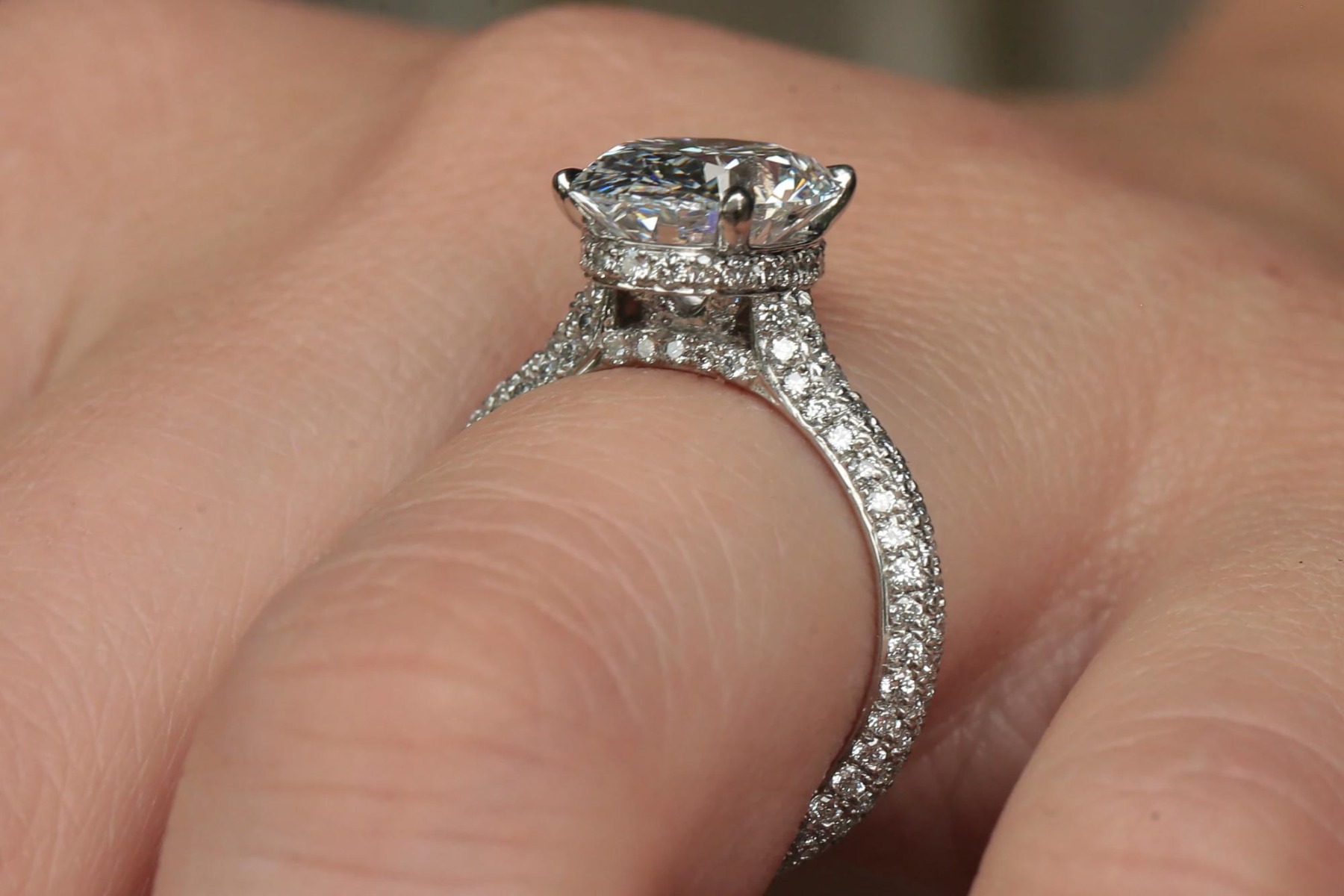 After many hours of tedious jewel-artistry, VOILA'! The finished product. The featured ring is one of Ron's "Nest of Diamonds" engagement rings. Available in most shapes and sizes of center gems.
SUBMIT A CUSTOM REQUEST